Navigating the Hong Kong Education Curriculum from Preschool to Secondary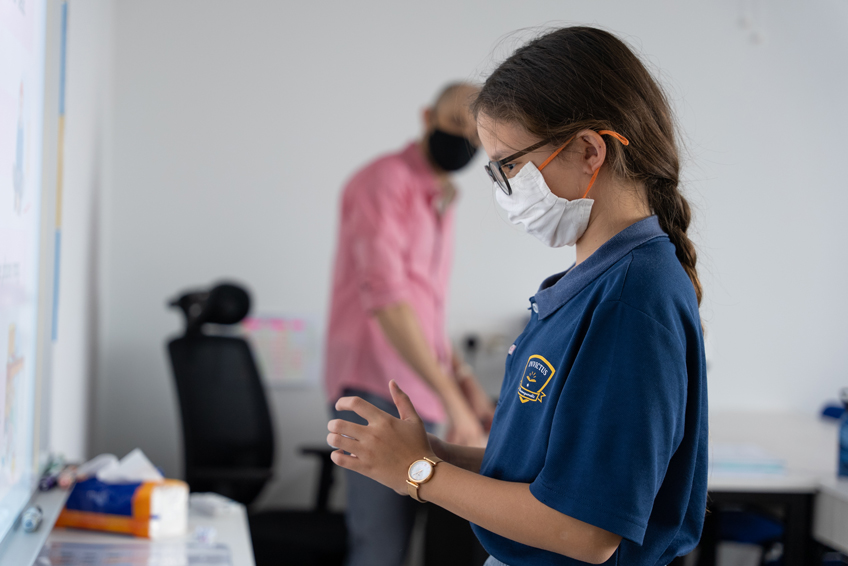 Choosing the ideal educational system for your child is not easy, we all know that far too well. Studying in Hong Kong comes with its own set of challenges, especially for expatriate families. Getting to know the national curriculum and how it works can be a pain. There are a myriad of options and you need to keep an eye out for so many things, leaving you wondering what is truly important. In this article, we navigate the Hong Kong education system and uncover its different teaching and learning systems. Continue reading to find out more!
Preschool
Preschool education in Hong Kong consists mainly of kindergarten and child care centers, intended for children from 3 to 6 years old. The goal of preschool education is mainly focused on child care and aiding their development. The core value of this segment of education is "child-centredness".
There are no tests or qualifications in this phase of education. The goal is to simply develop good habits and prepare the students for the next stage of schooling - teach them good habits, stimulate learning, and positive learning attitudes.
There are five common developmental objectives in preschool, called:
Moral development

Physical development

Social skills

Cognitive & language development

Aesthetic development

These five developmental objectives are carried out through six areas of learning - "Early Mathematics", "Language", "Physical Fitness", "Nature and Living", "Self and Society", and "Arts and Creativity". The goal is to give the children comprehensive and balanced development with the integrated approach and learning through play.
There are no national kindergartens in Hong Kong, each one of them is privately run. Some preschool institutions are non-profit, while some others are independent. The non-profit kindergartens now fall under a scheme called "Free Quality Kindergarten Education" - and it allows all children to get access to preschool education for free, limited only to a half-day option for the students.
Fees often vary from one preschool to another, factors that influence costs include the choice of a full-day or half-day option, independent preschool and the location.
Invictus Kindergarten
offers a great programme that does not break the bank - offering a bilingual education in English and Mandarin and utilizing the International Early Years Curriculum (IEYC). The IEYC provides specific learning goals for each subject area, as well as for personal learning and international-mindedness. With that, your child's creative features, collaboration with others, leadership, and critical thinking skills can be nurtured!
Primary School
With so many primary schools in Hong Kong, choosing the right primary school can really be an exhausting process. That is why the government has created an extensive list of all the primary schools in Hong Kong, that contains all the information you might need about primary education in Hong Kong. The list will contain the number of classes, the approach or curriculum the school is using, the qualifications awarded, testing used,, the costs and experience of teaching staff.. Everything you need to know about the school can be found on the list.
Hong Kong's public schools are usually free, but you as the parent may be asked to cover certain fees. Those fees are used for the Parent Teacher Association (PTA), Tong Fai (Miscellaneous Fees), and other charges. The Tong Fai (Miscellaneous Fees) is a payment for public schools, and it was introduced in Hong Kong after schooling became free. Do note that these charges are insignificant compared to the fees of private schools.
If your child is enrolled in the public school system, upon graduation from primary school, they will be allocated to a certain secondary school. Parents of students attending private schools, will have to apply for admission into secondary schools on their own.
There are several different types of primary education in Hong Kong, so let's see the types of schools below!
Local Schools
Local public schools are free for students, and they are teaching government-issued programmes. Commonly, the only examination the students will attend during their primary learning is SBAs - school-based assessments.
Admission to local schools depends on the fact whether the student already has an older sibling learning in this school. Each class in a local school is larger than it is in a private school.
International Schools
International schools can follow international programmes and subjects. The goals are to prepare international school students for university and to get an internationally recognized degree that can allow them to continue their academic studies anywhere in the world.
One example of an international school is
Invictus Primary School
which follows the International Primary Curriculum -IPC. The IB and the IPC are the most common choices of programs in international schools.
Admission to international schools may vary among schools, but some factors include the child's proficiency in the language of instruction used in school, completion of kindergarten education, and academic competence. An assessment may be conducted and academic transcripts may be requested as part of the admissions process.
Secondary Schools
Students in the public school system will be allocated a secondary school upon completing their primary education. Admissions to secondary schools will be dependent on how well the child has performed in the primary level SBAs.The children attend secondary schools for 6 years - 3 years in junior secondary school and 3 years in senior secondary education. Once the students finish their studies, if they follow the national curriculum (in public or private schools) - they will take the public examination called the Hong Kong Diploma of Secondary Education Examination (HKDSE). The goal of every secondary school is to prepare the students for post-secondary education.
So, let's check out the most important types of secondary schools, according to the Hong Kong education bureau!
Local Public Secondary Schools
There are two subtypes of public schools - government schools and grant-aided schools. The government schools are run by the Hong Kong government, while grant schools are run by religious or charitable organizations.
Both types of public schools follow the national curriculum, so Chinese language classes are mandatory. However, apart from those classes, the curriculum can be taught in English - English Medium Instruction (EMI) schools, or Chinese - Chinese Medium Instruction (CMI) schools. The examination students go through at the end is called HKDSE, an equivalent of the British GCSE exams, as well as some SBAs - school-based assessments.
Attending public schools is free - for primary and secondary education, but only Hong Kong citizens and permanent residents are allowed to apply for these schools. If you and your children have permanent residency in Hong Kong, you can consider the local schools as they do not cost an arm and a leg.
Private Schools
The private schools require a fee to be paid for the students to attend, and they are run by private organizations. Some of the private schools will offer a non-local curriculum, while some others will provide a local curriculum, but with extra attention for the non-Chinese students - with even non-Chinese language of instruction.
Private schools have full autonomy over student admissions and the academic content of every course. The schools will provide alternatives to local education, but they charge higher fees for it. The exams for private school students are those to get the HKDSE diploma they need to apply for university or college.
For example, the
Invictus Secondary School
follows the Cambridge secondary curriculum. In years 10 and 11, the students will take exams to receive the General Certificate of Secondary Education - IGCSE.
They offer high-quality learning, the teachers encourage creativity in students as well as their independence. The schools can also follow national curriculums from Australia, Germany, France, and so on.
International Schools
International schools are commonly the way to go for expatriate families. The school retains full rights of student admission, the content of courses, tuition fees, and in exchange, they offer a curriculum and education system from anywhere in the world - like the International Baccalaureate - IB program.
Hong Kong's education offers so many different curricula and frameworks for the parents to choose from! You can choose an international program or a local school curriculum, but what is sure is that your child will be ready for university.
The diploma the student will receive is not only important for college but for the whole community. The students gain a sense that they are belonging to their country on their academic path!
Going to an international school is fun because it provides the students with the experience of other cultures, and it gives the option of studying in English! That alone can make a significant positive impact on your child's life and academic learning - but it all comes down to your personal opinion of the programmes and framework,